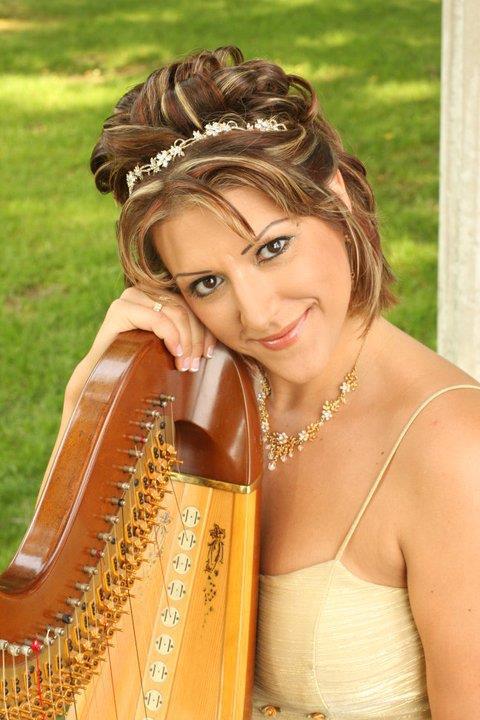 Alyssa Michalsky is a professional harpist currently residing in Dundas, Ontario, Canada and performing in Toronto and throughout south eastern Ontario. She has performed at over 4,000 weddings and events since the age of 12. Alyssa has dedicated her life's studies to music. She began playing the piano at age three, the harp at age five, and the Ukrainian national instrument, the bandura at age eight, and went on to win numerous musical awards and scholarships in all three instruments, including 1st place at the National Harp Scholarship Competition in the USA in 2001.
A graduate of the Bachelor's and Master's Harp Performance program at the University of Toronto, Alyssa had the privilege of studying with one of the world's most renowned harpists, Judy Loman, for six years. During her studies, she recorded two classical harp and flute CD's and toured across Ontario performing with her Lyon and Healy Concert Grand Electric Harp - the same harp used for all four of her professional recordings. After completing her musical studies, she obtained a Bachelor of Education degree from the University of Toronto. Subsequently, she taught elementary school music for the Toronto District School Board while solidifying her private music business.
Alyssa has been teaching harp and piano lessons for almost and runs a successful private music studio in Dundas, Ontario. Although Alyssa's background teaching children has been a valuable asset to her studio, she is highly revered for the success of her adult students. Her ability to invoke higher musical capabilities in adults, breaking physical and psychological barriers for progression, has been noted as profoundly gifted.
In the summer of 2009, Alyssa was appointed the position of the newest harp examiner for the Royal Conservatory of Music of Canada. In 2011, Alyssa was appointed the harp professor at the University of Western Ontario. Widely sought after as an adjudicator, Alyssa is delighted to be able to pass on her musical education and insight to the future generation
Alyssa's business, Divine Harp has been providing live musical electric harp entertainment to clients all over Ontario blending classical sound and technique with her uniquely stylized arrangements of contemporary music. Actively examining, adjudicating, teaching and performing on the harp is the greatest joy Alyssa could ever have hoped for in her very colourful and seasoned career as an artist.
Alyssa's Resume
Bachelor of Education, University of Toronto - 2004
Master of Music in Harp Performance, University of Toronto - 2003
Bachelor of Music in Harp Performance, University of Toronto - 2001
Grade 10 Conservatory – Harp
Grade 9 Conservatory – Piano
Grade 3 Conservatory Harmony Theory
Grade 3 Conservatory History Theory
Royal Conservatory of Canada Adjudicator, Training Program - 2008
Suzuki Piano Book 1 and 2 Training Certificates, Carole Bigler - 2004
Suzuki Harp Book 1 Training Certificate, Mary K. Waddington - 2000
American Harp Society Conferences & Courses - (1998 - Present)
American Harp Society Jazz Conferences & Courses - (1998 - Present)
Marusia Yaworska Ukranian Canadian Scholarship for Musical Excellence - 2002
1st place Anne Adams National Scholarship Competition - 2001
Women's Organization of Toronto Music Excellence Scholarship - 2001
Orchestral Excellence Scholarship, University of Toronto - 2000
4th place Anne Adams National Scholarship Competition - 2000
4th Place American National Competition - 2000
Numerous Kiwanis 1st place wins for harp, piano and bandura
4th place in World Bandura competition - 1996
Adjudicator for the Ottawa Kiwanis Festival - April 2015
Adjudicator for the Guelph Kiwanis Festival - April 2015
Adjudicator for the London Kiwanis Festival - April 2015
Adjudicator for the Ontario Kiwanis Provincials - April 2014
Adjudicator for the Ottawa Kiwanis Festival - April 2013
Holiday Harmonies - Solo Concert - Dec 2012
Glen Gould Studio Ukrainian Tribute Concert - Guest Artist - Oct 2012
Divine Delights - Solo Concert - Aug 2012
Appointed the position of Harp Instructor, University of Western Ontario - 2011
Adjudicator for the London Harp Kiwanis Festival - 2011
Chapters CD Release Concert Tour - 2009
Appointed the position of the newest Harp Examiner, Royal Conservatory of Music of Canada - 2009
Adjudicator for the Toronto Harp Society Scholarship Competition - 2004
Graduation Master's Recital - 2003
Huntsville Association for the Performing Arts – Harp & Flute Concert - 2002
Durham Concert Association – Harp & Flute Concert - 2002
Whitby Concert Series - Harp & Flute Concert - 2002
1st year Master's Recital - 2002
Glen Gould Debut with Flutist Kim Shippey - 2001
RiverRun Centre – Harp & Flute Concert - 2001
Divas & Desserts – CD promotion concert - 2000
Mooredale Concert Series Guest Solo Artist - 2001
Graduation Bachelor's Recital - 2001
Soloist with the Toronto Symphony Orchestra - 1999
Principal harp with the Boris Brott National Academy Orchestra - 1999
Principal harp with the University of Toronto Symphony Orchestra - 1999 - 2003
House harpist at the Ancaster Old Mill Inn - 1999 - 2003
Harp Professor for the University of Western Ontario - (2010 - Present)
Private harp and piano instructor - (1997 - Present)
Owner and manager of a private music studio housing over 20 students - (2004 - Present)
Bandura instructor in Toronto under Victor Mishalow - 1997 - 2003
"Divine Harp" Solo Electric Harp - 2009
"Divine Christmas" Solo Electric Harp - 2009
"Divas" Harp and Flute - 2000
"Snow Angels" Harp and Flute - 2000